Behind The Lines is delighted to announce it has been awarded a grant from the Arts Council's  Covid 19 Emergency Fund to continue its work connecting with communities in Bradford, Effingham, St Austell, Brighton and London.  To this end we are putting together a documentary about our recent Project Connecting Communities. Watch this space.
REVIEWS for 'Tell Me I'm Forgiven: The Story of Forgotten Stars Gwen Farrar and Norah Blaney'
Shortlisted for the Polari First Book Prize 2020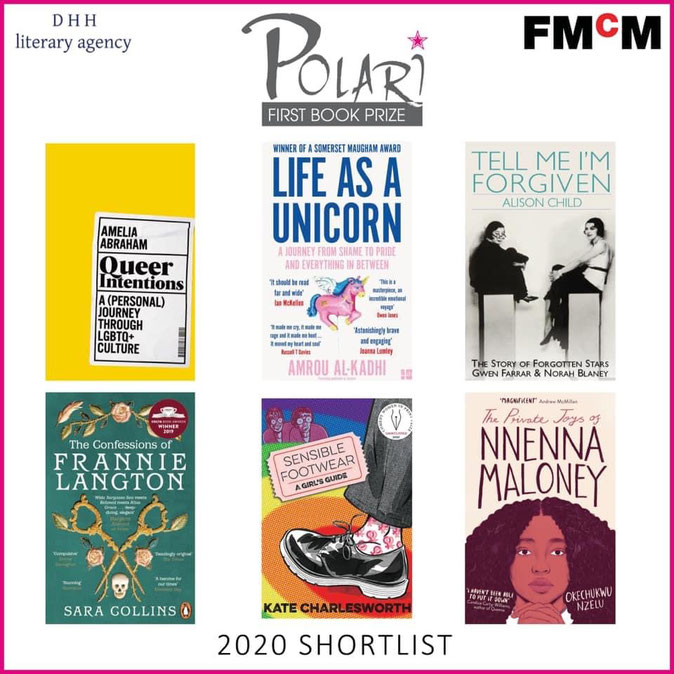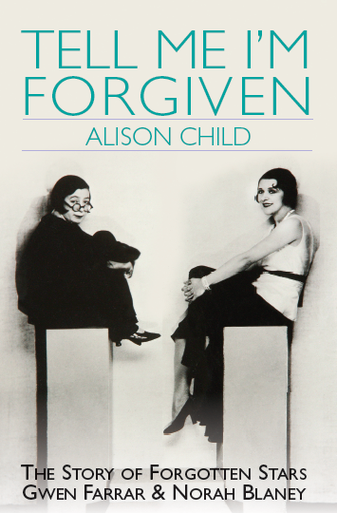 "I loved this book, such a thrilling piece of unknown British history and a fascinating addition to the fields of lesbian biography and theatre history."
Eric Page G Scene Magazine
"A fascinating and meticulously researched biography. Child weaves an incredible cast of well-knowns throughout the narrative."
Alison Young  Call Boy the monthly magazine of the British Music Hall Society 
"Child celebrates Farrar and Blaney as pioneering lesbians against odds. Her research is punctilious - there are sixty-five illustrations, notes, a bibliography and an index, all at a bargain price." Dr Peter Dickinson Musical Opinion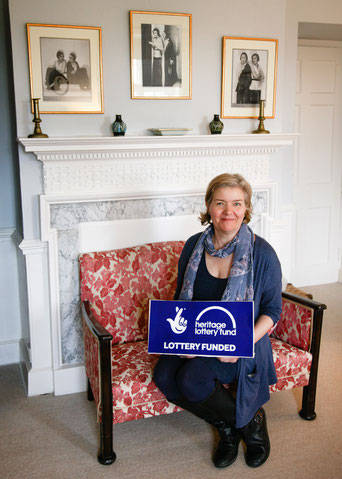 COMMUNITY THEATRE WINS £20,000 TO CELEBRATE REMARKABLE WOMEN
 19th March 2019
Today, Behind The Lines, a community theatre based in Hove, East Sussex, has received £20,000 from the National Lottery Heritage Fund for an exciting project, Connecting Communities With Hidden Lesbian Stories. Working over the course of twenty months in five separate locations, from St Austell to Bradford and beyond, they will celebrate the impact of forgotten  variety stars, Gwen Farrar and Norah Blaney, on the places they lived and worked. The result will be five multi-media, participative get-togethers that celebrate communities' abilities to adapt and include everyone.
Behind The Lines will work with members of local history societies, drama clubs, LGBTQ+ groups and residents' associations to produce five bespoke 1920s and 30s-themed events. Music, costumes , dances and, digitally restored photographs, will be explored, practised and displayed at fun-filled events with interactive slide presentations and collaborative performance, bringing to life forgotten LGBTQ+ history alongside local archive material.
 Gwen Farrar and Norah Blaney were England's first great female musical comedy double act. They were stars in the 1920s, singing the popular love songs of the day to each other on stage and recording the hit song of 1924. They topped the bill at the Coliseum, the Palladium, the Alhambra and the Victoria Palace as well as music halls up and down the country. Separately, Gwen toured with the legendary popular pianist Billy Mayerl while Norah starred in Francis Laidler's pantomimes and led a campaign for women's pension equality. Together they barely disguised the secret of their lesbian partnership which was to endure across three decades against all the odds.
Commenting on the award, Behind The Lines' Creative Director, Alison Child said: "We are thrilled to have received National Lottery funding to recognise and celebrate the work of these remarkable women on stage and in the places they lived.  We look forward to sharing their story with people of all ages and interests across those communities in 2020."
Stuart McLeod, Head of National Lottery Heritage Fund for South East England, commented: "We are proud to support this exciting project to share the story of these fascinating women. Thanks to National Lottery players, the project will help local communities learn about and celebrate Gwen and Norah's shared life and work."
ENDS
Notes to editors
About Behind The Lines
Behind The Lines is a community theatre company set up in 2014 to put lesbians centre stage and tell their stories.
Their work has particularly championed forgotten variety stars Gwen Farrar and Norah Blaney and they have raised awareness of their lives and work through presentations at the V&A, Surrey History Centre and  the London Metropolitan Archive and performances at the Russell Cotes Museum, the People's History Museum and the Edinburgh Fringe.
About The National Lottery Heritage Fund
Using money raised by the National Lottery, we Inspire, leadandresourcethe UK's heritage to create positive and lasting changefor people and communities, now and in the future. www.heritagefund.org.uk. 
Follow @HeritageFundUK on Twitter, Facebookand Instagramand use #NationalLotteryHeritageFund  
For further information, images and interviews, please contact
Alison Child, Creative Director, Behind The LInes 07908155000 admin@behindthelines.info

'Fall of Duty' Review Roundup
"I left wanting the whole festival to know about your show and wishing everyone could see it...clear, honest, intelligent acting.  I was riveted...the condensed quality of the play - nothing unnecessary - was like a focused beam." 
"This is a piece of drama that doesn't just show us the planet, it seems to encompass the complete issues of the planet!  She can talk about a whole world of subjects in a few lines.  The breadth of this piece is huge."
"Extreme poignancy and heights of mirth.  Genuinely left not knowing whether I was laughing or crying.  And finding the peacefulness between the two was what I ended up with.  Enlightened stuff."
"gritty, wonderfully written and delightful to watch"
"intelligent, emotionally charged" 
'splendid...moving and much more'
'a charming watch' *** Fringe Hub
'intricate and clever...a touching tale' *** Fringe Guru
"It's once the song-and-dance numbers kick in that the show really hits its stride. Performer Harry Child, expands into his role the moment he begins to sing – and with a rich voice matched by a confident swagger, it's easy to picture him as the young Basil Hallam. The songs are neatly matched to episodes in the present-day tale, and they culminate in the mandatory uplifting audience sing-along, embraced with heart by all present on the day I attended.
There's one further figure in the music-hall scenes: performer Elsie Janis, who Sue often references and occasionally steps into character to play. Janis takes the back seat to Hallam – just as this is Jack's story more than Sue's – but we learned about her practical courage in organising a tour of wartime France, an anecdote which whetted my appetite for more..... The relationship between Sue and Jack forms the play's emotional heart. They don't quite understand each other, but it's clear that they love each other. My eyes were a little misty at the end of it… for Basil, for Jack, and for memories of the days when I too was twenty-one." Richard Stamp Fringe Guru
Behind The Lines earned 4* from us for each of their past two productions - All The Nice Girls and yesterday's Sure Choice, Deep In The Heart Of Me. This one sounds a bit different though: a mother-and-son collaboration, it's a semi-autobiographical show tackling war, non-conformism, elections – and an old-time forces sweetheart. It remains to be seen what this all adds up to, but on past form we can expect an unconventional story whose tenderness belies a sharper edge. Fringe Guru
Review - Fringe Review
Not so much another First War narrative but a parallel rediscovery of singalong music, song and dance, stars and tears in their eyes. Alison Child's an emerging dramatist from the Royal Court scheme, and this lightly fictive account of a mother/son research duo delves into and develops a show on a post-Edwardian and wartime double act: Basil Hallam and Elsie Janis. This Behind the Lines production is directed by Rosie Wakley with technical assistance from Katy Brecht this is an excellent use of video, including singalong cues and plangent photos. And we're treated to rap music interludes created for the show by Louie Le Vack. It's a pretty snug fit against Edwardian music hall.
We're hurled from a video with inset of mother Sue (Alison chid) badgering reluctant son Jack (Harry Child) out of his NEET (Not in Employment Education or Training) stupor full of Call of Duty wargames to join her in a research project on the lives and careers of the two stars who obsess her. It's clear the highly-educated Sue has provoked a backlash in her son, who mildly resents her gay lifestyle and friends after the end of her marriage, and bucks against being buckled into jacket tails and top hat. 
His transformation into the privileged Basil Hallam and Sue into Ohio-born Elsie Janis – promised girlfriends for this role don't materialise – shifts from blokey Brighton Mockney to a ghostly elegance, which strengthens. The Hallam narrative Gilbert the Filbert is the Edwardian dandy, insouciant, blasé, confident of sexual conquest. He's the Nut with a K – 'Knut's a byword for elegance though it's Danish, curiously woven into musical hall.
I first came across it voice-recording the diaries of an old friend Leo Wheeler a First War pilot, recounting his life after he was shot down by Richtofen's circus in 1917. 'Quite the Knut' he recalled and in 1978 I only grasped through context. 'Nut with a K' he explained affably. What? The Knut's dressiness filtered the Filbert to a German POW camp I was told. Jack quips 'K for Ketamine' too and we get a blast of rap – it's refreshing when Hallam's world is striated with the music of a century on but underlines affinities: flaneurs and wit.
Jack initially provides a non-online Apprentice-style summary of Hallam at his mother's behest. He draws identifying parallels, photos of both in football garb, choirs, singers (this is where of course the real Harry Childs is in no way a NEET). It's neatly apposite video footage. Jack's in no way entirely seduced yet. His Fall of Duty however ripples meanings throughout this cleverly-realised narrative.
The double act Hallam performed with Elsie Janis an American born a month before him (in 1889) came about through this pushy-but-warm star – who survived her own mother's pushiness – saw in Hallam a perfect double-act. Gay herself, she joked with Hallam that more girls came to the stage door for her, not him. It's one of those side-lights flickering tolerance in some millieux we don't celebrate enough.
 This is where Alison Child's relaying information briefly becomes a lecture. Hallam's is interrupted with twitting of mother and son; badinage undercuts info with chirpy parallels.
The war changed everything, Janis risking everything to come and entertain troops on the very Lusitania later notoriously sunk with 1200 dead, but Hallam despite a steel plate in his foot was turned down for service. With a regular military elder brother winning DSOs he knew he didn't fit. However after enough white feathers and hate mail, he maanged to make the Royal Flying Corps and perilous balloons. 
We've seen these aerial shots before, Sue trying to make Jack see the beauty of the earth or aerial shots of World War One. Jack heads off after a series of girls (all Lara, Kara, or Zara) prove frustrating. It's a neat crisis. sue knows he's big enough, he's joined the army perhaps and he comes bouncing back after an interregnum where Sue recounts more background. He has more aerial footage and news of Hallam.
It seemed mid-show this might earn a decent recommendation with a few clunks. It shifts however. Tightness of video, the engagement of audience and extremely well-counterpointed denouement makes this a memorable show. And did I mention the Childs can sing? It's very triple-threat in a tiny room. Harry's got West End form, but Alison's high light soprano is excellent, their song and dance recapturing musical hall pranks with canes genuinely conjures that world. It's an extremely tight show, and Wakley and Brecht too must be congratulated for pacing it so well. The poet Edward Young once wrote 'tis only solid bodies polish well' and it's to be hoped with a few more finessings this will gleam into the small, real gem it is.
 Published May 13, 2017 by Simon Jenner
DEEP IN THE HEART OF ME Review Roundup
'hilarious script, witty, and very often heartbreaking' 
'induces a constant stream of laughter from the audience...nuanced performance.'
'their chemistry is undeniable, and the two actresses play the romance in a loving, endearing and utterly believable way'

'The singing is incredibly enjoyable...performed for maximum comedic effect, as the pair hilariously act out their clumsy falling for one another.'
'Rib-tickling dialogue, and great use of projections...the play feels warm, layered, and captivating'
'This sweetest of Fringe treats'
'Very touching, very simple, heart-rendingly delivered'
'a tightly-plotted piece of theatre, tackling piquant and eye-opening topics within the framework of its tender storyline.'  
'Dear reader, my eyes turned misty; and unless you have a crab-apple where your heart should be, I predict you'll be moved by it too'
'DEEP IN THE HEART OF ME ' Reviews
Arts Award Voice
Emily Steer  8th May 2016
Deep in the Heart of Me starts off so, so well, with lead actress Alison Child delivering the hilarious script in a witty, and very often heartbreaking way. Janet is married, with kids - who like to leave her messages asking about dinner and lifts, teenagers, eh? - and is, most probably, a lesbian. The first portion of the play sees her alone, acting out various banal scenarios such as walking the dog and going to a parents evening, only her reactions and the off-stage voices of her various nagging family members give any hints as to the other people in her life. She squirms, fakes happiness and induces a constant stream of laughter from the audience, in this nuanced performance. The first actual human to enter the stage - besides Janet and a whimsical signer to stage right - is the charming Rosie, AKA Janet's potential love. Against the various missing presences in Janet's life, Rosie is immediately seen as a real person, life itself.
When Janet and Rosie meet their chemistry is undeniable, and the two actresses play the romance in a loving, endearing and utterly believable way; from the awkward winks and nods off to the audience to the lustful looks at one another. The singing is incredibly enjoyable. Each song - mostly Rat Pack - is performed for maximum comedic effect, as the pair hilariously act out their clumsy falling for one another. The first few songs are mixed with more rib-tickling dialogue, and great use of projections, which turn Sweet Waterfront's drab conference-style room into the Greek Island of Lesbos (badum tish!). The play feels warm, layered, and captivating.
As the show progresses, songs take the place of dialogue, in a way that moves the plot from one point to the next. The delivery of each song becomes more direct, less nudge-nudge wink-wink, more simple. In many ways this change from complex script to upbeat tunes is intended to reflect the loosening of banality on Janet's life, the welcoming of a no-holds-barred kind of existence - and for that it does do its job. But, for this to really work it feels as though they would need a bigger venue and stronger sound.
That said, I did leave with a smile on my face, not least because, through all of this, I still thoroughly bought this nutty pair as a loved-up couple. 
Fringe Guru 
Richard Stamp  21st May 2016
This sweetest of Fringe treats is, at its core, a straightforward love story: a holiday romance set on a Greek island, which we earnestly hope will survive the return to the rains and stresses of England.  It really doesn't matter that the island is Lesbos, and the adorable couple we're cheering for are a pair of gay women.  But for Janet and Rosie, the path to true love isn't a smooth one… because it's taken Janet a lifetime to accept her sexuality, and she has a husband and two teenage kids back home.
We learn that back-story through a very touching, very simple prelude, heart-rendingly delivered by actor Alison Child.  Now in her fifties, Janet looks back with wistful longing on her schooldays, remembering that all she wanted was a girlfriend.  Not just any girlfriend, mind you; a girlfriend she fancied, a girlfriend with curves.
There's a liberating carnal frankness to that monologue, and much of the subsequent humour comes from Janet's shy exploration of her newly-embraced sexuality.  These scenes – including a hilariously memorable description of an act of mutual pleasure – are risqué enough to inject a sense of daring, but always tasteful enough to fit the show's afternoon slot.  There's a nice succession of throw-away lines as well, and some witty visual incongruities, such as the opening image of a self-declared 52-year-old woman shamelessly brandishing a selfie stick.
Punctuating the dialogue is a series of show-tunes, performed with verve by Child's real-life partner Rosie Wakely.  Wakely plays a cabaret performer – also named Rosie – the down-to-earth, more confident woman Janet meets on Lesbos, and with whom she is clearly destined to fall in love.  If I'm honest, the first couple of songs feel like something of an intrusion, perhaps because they wait too long to introduce them.  But the tunes are worked artfully into the plot, and by the time they crack out the triumphant final number everyone in the room seemed happy to sing along.
It's not all smiles: there are stumbles along Janet's journey, including one moment of unintended but devastating cruelty when she learns that Rosie sometimes enjoys dressing as a man.  But if there's a nagging doubt in my mind, it's that the fictional Janet's liberation comes rather too easily.  She is, after all, leaving her husband and children for someone she met on holiday – a decision that surely ought to cause a measure of introspection and moral doubt – and while the script does briefly address that point, it quickly turns it into a joke.
A brief "road trip" scene set in Texas feels like it's there solely so that Wakley can dress as a cowgirl… but she turns out to be the cutest cowgirl you can possibly imagine, so I guess I'll excuse them that point.  Overall, Deep In The Heart Of Me is a tightly-plotted piece of theatre, tackling piquant and eye-opening topics within the framework of its tender storyline.  Dear reader, my eyes turned misty; and unless you have a crab-apple where your heart should be, I predict you'll be moved by it too.
"All The Nice Girls" Review Roundup
Scotsgay ***** "fabulous"
Fringe Guru **** "heartbreaking" 
The Stage *** "lovingly crafted"
TheScotsman **** "fun" 
Fringe Review RECOMMENDED "clever"
Edinburgh Spotlight "charming" ***
British Theatre Guide "endearing" ***
Theatre Guide London "a significant piece of lesbian history" ***
Kaleidoscot "intriguing" "wonderful" ***
Review: All The Nice Girls
Posted by SG Fringe
Venue: Sweet Grassmarket
Category: Theatre
Times: 3:15pm
Dates: -Aug 29th
Stars: *****
Reviewed by Mary Woodward
This show is a little gem! It is a bijou vignette from lesbian history, an education for anyone born after the 1980s or having no idea what it was like to live permanently closeted, fabulous entertainment and a welcome respite from the frenetic entertainment that makes up so much of the Fringe these days. Rosie Wakley and Ali Child present a look at lesbian life in the earlier part of the 20th century and recreate the fascination and allure of the male impersonator in the days of Music Hall and Variety, showing how 'We can get away with a lot more on stage than we can in real life.'
We are welcomed into the tiny theatre by a dashing army officer and a very friendly sailor, completely understand why 'All the nice girls love a sailor', and join enthusiastically in the chorus. Songs from the first three decades of the century are interwoven with the stories of Ella Shields (whose signature song 'Burlington Bertie from Bow' was written for her by the husband whom she later divorced) and the West End Revue stars and real-life couple Gwen Farrar and Norah Blaney, and with scandalous revelations about Joe Carstairs, the immensely wealthy lesbian adventurer, the actress Tallullah Bankhead, Oscar Wildes niece Dolly and, of course, the novelist Radclyffe Hall.
There is a lovely rapport between Rosie and Ali. Eyes twinkling, they vivaciously celebrate the outrageous impudence of the impersonators while rejoicing in their 21st century freedom not only to be who they are but to portray their mutual affection on stage. The audience rejoices with them, and sings lustily the chorus from Everybodys singing, especially the lines, 'Now's your opportunity, join the gay community, And keep on singing all the while'. Was I the only one wiping away a tear, thinking how far we've come since then?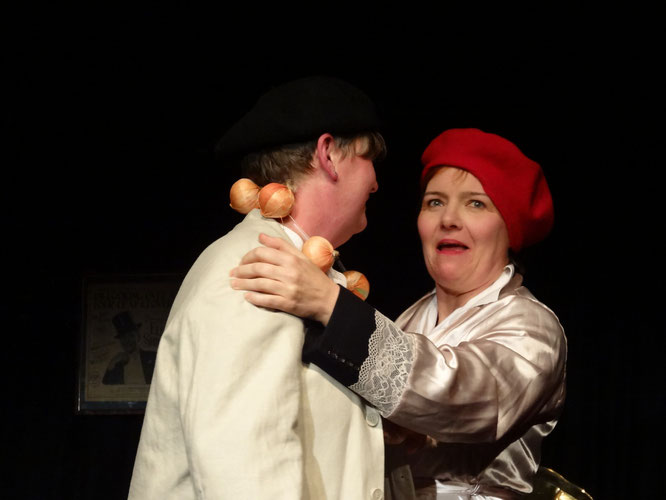 All The Nice Girls review by Richard Stamp  23/05/15  * * * *
All The Nice Girls is a sweet, loving reminder of the golden age of music-hall, combining catchy songs, heart-melting performances and a mournful twist.  Telling the tale of Gwen Farrar and Norah Blaney – two 1920s West End stars who could impersonate men on-stage, but never acknowledge their sexuality off it – it delivers a piquant back-story alongside plentiful feel-good, old-style entertainment.
The mood is set from the very first scene, which sees performer Ali Child and Rosie Wakley – in character as Farrar and Blaney – dress up as soldier and sailor for a First World War classic.  From then on, the music-hall numbers are almost uninterrupted, ranging from the familiar Burlington Bertie (performed by Child with cheeky winsomeness) to a few I'd never heard before.
To our modern sensibilities, these songs may seem naive, relics of a less sophisticated age.  But that's all part of the fun – or at least, it is if you allow it to be.  The story of Bashful Johnny, who gets into a terrible tangle by kissing a girl, won't win any awards for character development; yet when Wakley makes him such a loveable and engaging figure, it's impossible not to surrender to its charm.
And in a specific, rather clever way, All The Nice Girls is a product of our age.  As Farrar and Blaney grow older, a slow-running countdown forms a recurring theme of the show; a measure of the years left till 2014, when – if only they'd lived long enough – they could finally have been married.  It's the touch of sharpness needed to stop the sugar becoming saccharine, and it gives us something to celebrate, a reason to be telling this old tale here and now.
There are some lovely moments of rapport between Child and Wakley, and the pair elegantly capture the scandalously decadent world of 1920's high society (a social circle from which Farrar and Blaney were essentially excluded).  Later on, when the pair separate, the there are desperately heartbreaking solo turns.  But the mood's restored by an audience sing-along – when everyone present seemed delighted to do as the lyrics exhorted, and "harmonise in that good-old fashioned style".
What matters most for All The Nice Girls is the nostalgic mood, and its sweetly heart-warming songs.  It's a perfectly loveable, perfectly delightful way to spend an hour, and it gives you a few things to think about too.  If life at the Fringe is starting to weigh you down, then this is the perfect restorative.
All The Nice Girls Review by Tom Wicker                                                              'The Stage'  - May 5, 2015
Beginning with music hall and the rise of variety, this lovingly crafted revue-cum-history lesson brings together biography and song as it explores the changing expression of sexuality and gender on stage, through the First World War, into the glitzy 1920s and beyond.
In the back room of the Iron Duke pub, Ali Child and Rosie Wakley, the writer-performers of All the Nice Girls, pull back the curtain on a fascinating alternative world of onstage female cross-dressing and private same-sex relationships between the greatest stars of their day, such as Tallulah Bankhead, at a time of public hostility.
There is a fun atmosphere as Wakley and Child (who slips into the persona of performer Ella Shields) sing Ship Ahoy! in navy and military drag, before moving on to the likes of Oh, It's a Lovely War! and, from 1926, Masculine Women, Feminine Men. It's cheeky, touching and truly enlightening and what the show lacks in finesse, it counters with charm and conviction. With gay marriage finally here, this is a wonderfully vital insight into a different time.
Verdict
A cheeky, touching and enlightening peek into a fascinating world.    
*****                               
Blog Feature: Jon Fleming 

 "Delightful – very warm and intimate and funny"

Yesterday, Malcolm Hardee Comedy Awards judge and Scotsman comedy reviewer Claire Smith was impressed by Ali Child and Rosie Wakley's show All The Nice Girls at the Brighton Fringe. It is about music hall entertainers who were secretly lesbian.
Ali came out 18 months ago, after getting together with Rosie, whom she met in (of all places) Lesbos. Elsewhere, Rosie performs as Sinatra-esque  lounge singer Ronnie Rialto and, with Ali, she performs as Behind the Lines.
All The Nice Girls is based on the true story of Gwen Farrar and Norah Blaney – music hall singers of the 1920s who had an on/off relationship with each other.
There is a 1922 film clip of them on YouTube.
Claire tells me: "When Ali and Rosie started researching the show they were hoping to find some original sheet music – but hardly anything existed. Then a friend in the British Library found some very old original recordings, so they have recreated the songs from them. The lost recordings also ended up on an album.
"The songs are lovely, fresh and funny with surprisingly fruity lyrics. Ali and Rosie have done an amazing job of bringing back to life this forgotten bit of entertainment history."
The man from the British Library was also at the show.
"Ali and Rosie make lesbianism very appealing," Claire tells me.
They must do. Claire also tells me that Michael Topping too thinks the show was "delightful – very warm and intimate and funny". So much so that he says it has inspired him to become a lesbian.
Meanwhile, I await news of a previously-mentioned strip show in Vancouver.
"Wonderfully vital...a cheeky, touching and enlightening peek into a fascinating world"
Read our review in 'The Stage'
'All The Nice Girls' on Radio Reverb
We were featured on Kathy Caton's 'Out in Brighton' show on Radio Reverb in December 2014
and Juice Radio 'Brighton Nights'  with Boogaloo Stu
'150 QUESTIONS' by Alison Child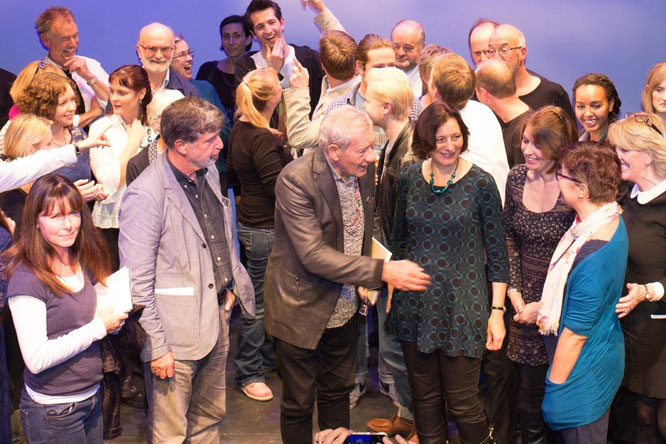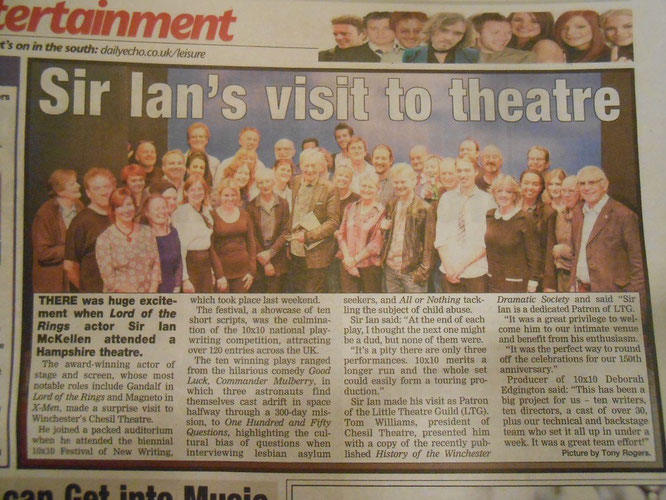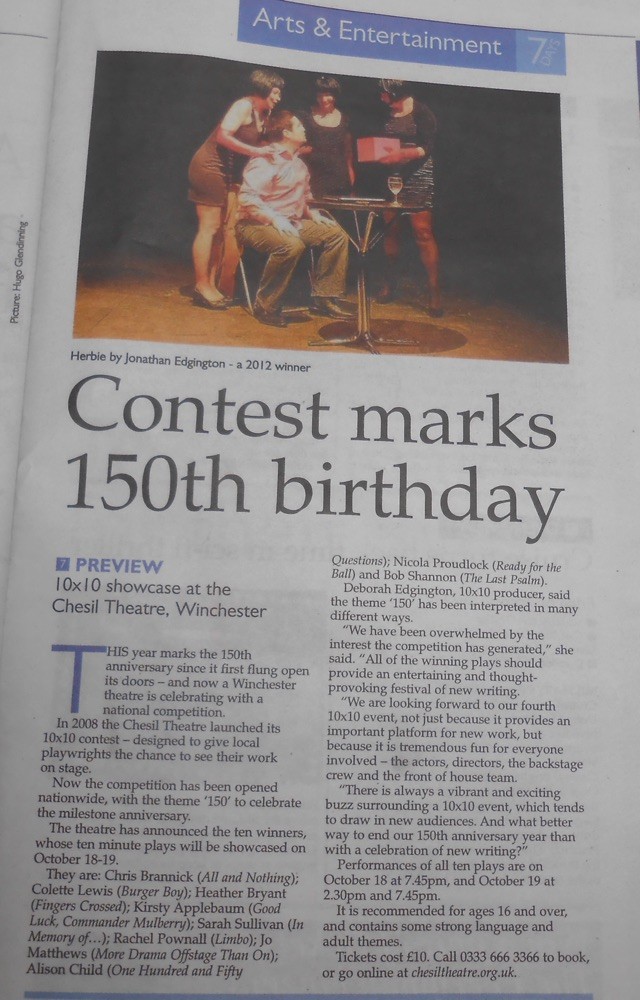 Photographs by Tony Rogers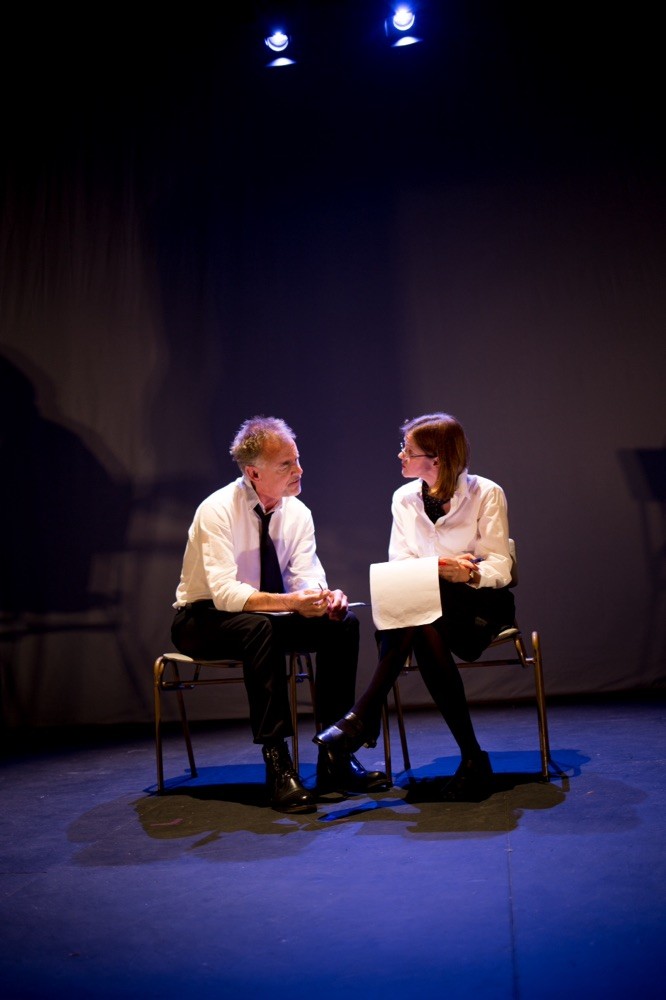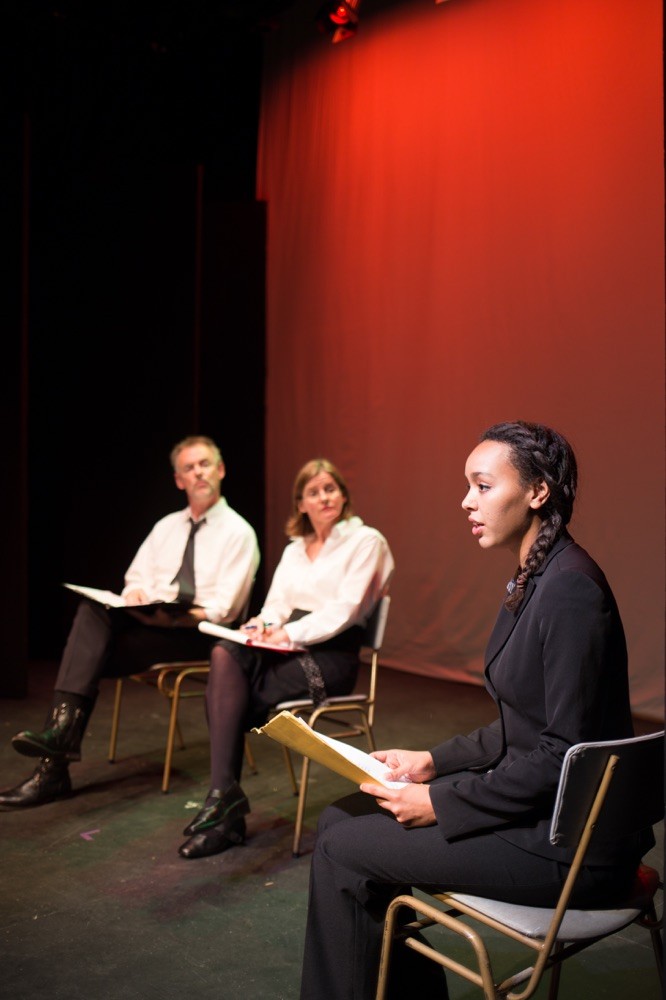 ---
'All The Nice Girls' at the Salisbury Fringe