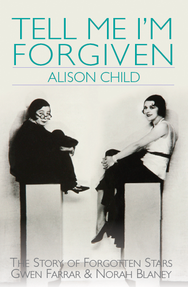 We are currently self isolating and following medical advice regarding the Coronavirus pandemic. All face-to-face activity has stopped. We send good wishes to all visitors to our website. STAY SAFE. Our event in St Austell has been postponed to a date tbc.
Meanwhile, a new chapter of the audio version of 'Tell Me I'm Forgiven:The Story of Forgotten Stars Gwen Farrar and Norah Blaney' is being released each week. Click the links to listen on Soundcloud.
In March 2018 Ali was on LatestTV talking about her upcoming book about forgotten lesbian variety stars, Gwen Farrar and Norah Blaney. Watch her interview with Latest TV Host Andrew Kay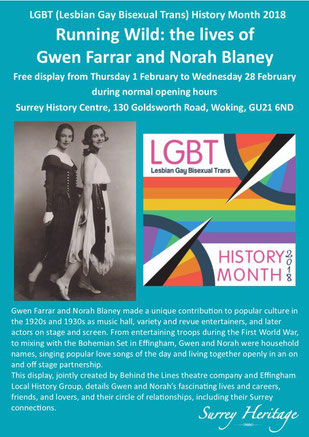 We were thrilled to co-present this exhibition at Surrey History Centre with Effingham local History Group. It was free to visit throughout  February 2018 at Surrey History Centre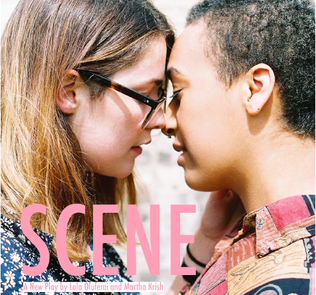 SCENE
In November 2017 we brought 'Scene' by Lola Olufemi and Martha Krish to Brighton for two nights at the Marlborough Theatre. The play follows the relationship of Ayo and Flo, and offers a candid, affirming and unapologetic insight into what its like to live and fall in love in a society which challenges your selfhood and denies you agency.
    The show SOLD OUT at the Marlborough for two nights, attracting lots of new audience members for Behind The Lines.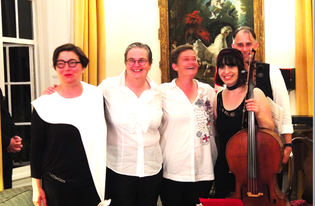 Celebrating 100 years of Gwen Farrar and Norah Blaney's double act. 21st June 2017 at Talton House the home of Gwen Farrar's nephew Sir Andrew Watson
With co-researcher Jeremy Palmer, pianist Mocja Monte and cellist Kate Shortt.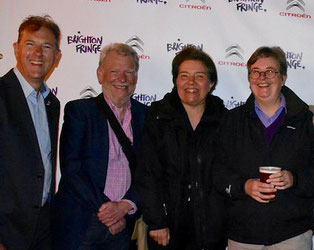 Brighton Fringe Awards June 2017
Ali Child and Rosie Wakley with Philip Hetherington CEO of Creative Youth Charity  who organise the International Youth Arts Festival. 'Fall of Duty' was nominated by the young critics from IYAF as one of the top 5 Best of Fringe Theatre shows.
BEHIND THE LINES is a theatre company set up by Alison Child and Rosie Wakley in 2014. Our first show 'All The Nice Girls' has been performed throughout the UK in theatres, community halls, pubs and care homes.
'Deep in The Heart of Me', started life at the Brighton Fringe in 2016 and was Nominated Best LGBTQ Show in 2016.
'Fall of Duty', which we have devised in collaboration with Louie Webb, Octavian Oliver and Harry Child, tells the story of Elsie Janis and Basil Hallam, contrasting the escapist entertainment they provided for troops in WW1 with the modern escapism of war games such as Call of Duty.
Each show lasts 60 minutes.
We are champions of lesbian variety stars Gwen Farrar and Norah Blaney and frequently give talks about them.
We marked the centenary of Gwen and Norah first meeting each other on 21st June 2017 with a special celebration event, followed by a season of performances named in their honour.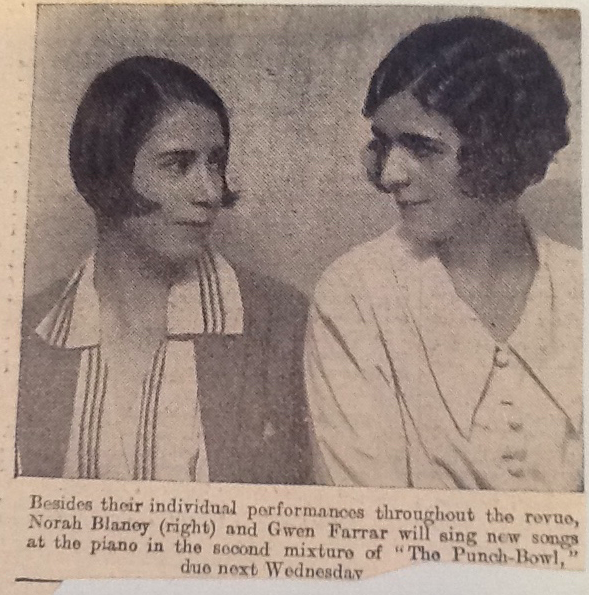 ALL THE NICE GIRLS
Part Music Hall turn, part History play, this delightful work combines romance and nostalgia to look at the lives of forgotten Variety artists Gwen Farrar and Norah Blaney. Incorporating songs from Music Hall performer Ella Shields ('Burlington Bertie', 'Oh It's a Lovely War!' 'If You Knew Susie') expect  to laugh, cry and be  transported back in time for 50 golden minutes.
"totally absorbing and gorgeous………an amazing experience...truly magical!"
'Deep in The Heart of Me' - 'a sweet love story with appeal to everyone' Richard Stamp. Fringe Guru
Thirty years on from 'Shirley Valentine', Janet takes a holiday to Greece. She meets the girl of her dream, in a suit and tie singing Frank Sinatra songs. To a backdrop of his greatest hits, 'All or Nothing at All', 'Strangers in the Night', 'I've Got you under my Skin' their romance unfolds and Janet realises this holiday was a departure in more ways than one. Behind The Lines presents this new show alongside their hit from last year's Edinburgh and Brighton Fringe, 'All the Nice Girls' which was Nominated for the Outstanding Local Talent Award.
"Each song - mostly Rat Pack - is performed for maximum comedic effect, as the pair hilariously act out their clumsy falling for one another. The first few songs are mixed with more rib-tickling dialogue, and great use of projections, which turn Sweet Waterfront's drab conference-style room into the Greek Island of Lesbos. The play feels warm, layered, and captivating...When Janet and Rosie meet their chemistry is undeniable, and the two actresses play the romance in a loving, endearing and utterly believable way; from the awkward winks and nods off to the audience to the lustful looks at one another."

WELCOME TO BEHIND THE LINES
"All The Nice Girls"
"A touching, truly enlightening and lovingly-crafted revue" 
"A wonderfully vital insight into a different time performed with charm and conviction"
'The Stage'  5th May 2015
Find out about our latest productions, watch our video and feel free to contact us.
'All The Nice Girls' is currently on tour visiting small venues and community groups and playing at Arts Festivals. It's an entertaining, nostalgic  show about the Music Hall and Revue, looking at the careers of Gwen Farrar and Norah Blaney through the eyes of male impersonator Ella Shields.
Here's  footage of us performing in Manchester in February. Made for us by Cathie Rose Heart.
We had a great time performing at the People's History Museum in Manchester at the LGBT History Festival. Sue Sanders, the Chair of the Festival and the organisation 'Schools Out ' said, :"The show is a joy, a delightful blend of history and song. We learn about the life of lesbians through humour and through the eyes of two lesbian entertainers. It moves you educates and charms you. See it!"