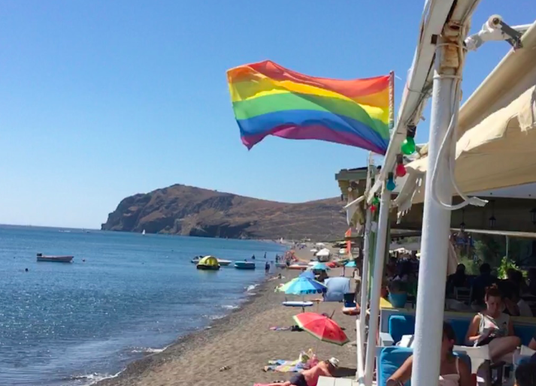 I have spent the past five months living in a remote corner of the North Aegean, on Lesvos. It's the Greek island that gave its name to the word 'lesbian' and, more recently it has been synonymous with the refugee crisis because of the arrival of thousands of people by boat from Turkey.  These two associations might cause the average traveller to delete the island from their destination wish list and seek escapism elsewhere. 
But for me and hundreds of women the island and, in particular, the resort of Skala Eressos offer a uniquely welcoming environment.  In this article I'll explain why. 
Rock Group
Throughout the summer each weekday the Skala Women's Rock Group meets. I had swum the few hundred meters to the imposing crag by the tiny harbour before. The first time I did it, in September 2013, I was so moved by the sense of being gently, unobtrusively supported by the other women that I realised at last I had found my tribe.  Swimming with them more than thirty times this year and venturing for the first time all the way around the rock, reinforced that sense of belonging. 
Animals
The rock group is entirely run by volunteers and they support the local animal charities that make a huge difference to the welfare of cats and dogs in the area.
Vaccination and neutering programmes have reduced the number of strays. When a visitor stopped me to say she had just seen a cat in great distress by the side of the road I was able to make a quick call to the remarkable woman who runs the Gaga charity who immediately went to administer care and drugs to put it out of its misery.  
Stray dogs are fostered and re-homed and visitors can join in with daily puppy walks. 
To the porch of the house I've been renting with my partner Rosie, swallows came in May to build their nests. We were nearly overwhelmed by squadrons of them swooping round our heads. We played the sounds of birds of prey squawking on a loop to deter them but still they built, as our nerves shredded. We gave up resisting and, having established where we were prepared to let them build, it became a joy to watch the most tenacious of them construct a miraculous home from gobbets of mud.
 A pretty tabby cat adopted us and we've been careful to make sure she can still fend for herself when we leave for the winter. She's been a friend and study companion for Rosie as she works on learning Greek.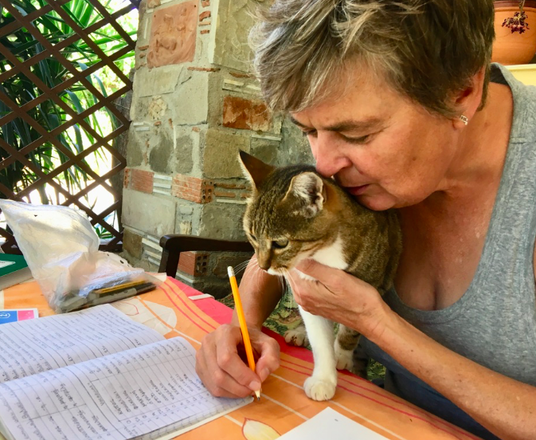 Language and lettuces
We found a teacher from Athens, a wonderfully learned and patient man who has spent summers on Lesvos since the 1970s. His Greek lessons have given us the confidence to make tentative conversation with the encouraging people who run the local shops. From them we've learned when produce is coming in to season. Waiting for the grapes to arrive from Corinth beats the instant gratification of all-year-round bunches in their plastic trays at home. Carrots grown in Eressian soil have a flavour and texture we'll miss. We cultivated our own lettuces and tomatoes and made preserves from apricots and figs. It was gloriously easy, even for two people who have never kept so much as a pot plant alive back home in England.
Work
The house here has no Wifi but finding I could connect via my phone's personal hotspot was a revelation. It made it possible to stay in touch with my editor at Tollington Press during the months we worked together on my book. It's a biography of two forgotten lesbian variety stars from the 1920s. These women never literally made it to Lesbos but one of them, Gwen Farrar, was referred to as 'the Greek' for her Sapphic disposition by Angela du Maurier in her diaries. Through her love affair with Oscar Wilde's niece Dolly Wilde, Gwen had a direct connection to the salonnière Natalie Barney who visited Lesbos in 1904 with a dream of setting up a lesbian community here.
Women's Festival
Where Natalie Barney failed, the organisers of the Eressos International Women's Festival have succeeded in spectacular style. For two weeks each September artists of world renown come to perform in the resort's open air cinema. Last year Open Clasp brought their critically acclaimed play Key Change prompting an important discussion on the treatment of women in jails and asylum centres. This year the lyric soprano Nadine Benjamin won over opera-lovers and cynics alike with her down-to-earth approach combined with wonderful technique and artistry in a concert few who witnessed it will ever forget. 
Daytime events include very special cultural walks 'in the footsteps of Sappho' and group outings to nearby villages.
The Festival also provides a stage for bands and solo performers, DJs, drag kings, workshop leaders and writers. I had the privilege of chairing a panel that included Diana Souhami, the doyenne of lesbian historical biographers. 
The most iconic event of the Festival is the annual Alternative Fashion show, far ahead of its time in its inclusion of  women of every age, ethnicity and body shape on a catwalk stage to rival any in Paris or Milan.  Movingly the walkdowns celebrate diversity, raising awareness of refugees, the environment, women's self-care and not a single big business or wealthy individual profits from this event or any in the Festival. 
One very special night last year we were treated to a double bill of films from  Greek cinematographer Tzeli Hadjidimitriou. Her short documentary Grannies: The Granddaughters of Sappho has since been seen at the Women Over Fifty Film Festival in Lewes and at other screenings around the world. In Eressos the audience of Festival goers was joined by an equal number of men and women from Lesvos, supporting Tzeli and seeing their friends and familiar locations on screen. Introducing the films Tzeli proudly declared herself a lesbian Lesbian. 
This year another of Tzeli's documentaries was shown; a sensitive portrait of a transwoman living life openly in a small and conservative fishing village.  The same evening we watched Rachel Dax's  highly entertaining, taboo-busting drama Time and Again.  Seeing older lesbians represented on stage and on the big screen is indescribably empowering for women my age brought up in a climate of erasure. Here, uniquely, we can celebrate finding other women like us, en masse. After lifetimes of conducting our social lives in the margins, the  starry skies and beach front bars provide the most sublime setting imaginable for making friends, sharing stories and responding to the art and music on offer.
Sappho Singing
I may never again have a summer like this one. I put the final touches to my book and worked successfully to get its protagonists, Gwen Farrar and Norah Blaney,  an entry in the Oxford Dictionary of National Biography. I spent five months in the sunshine with a lovely tabby cat and my kind, wise and easy-going girl friend. I swam, cycled, walked, ate figs and learned the Greek alphabet. This would all have been enough to constitute a summer beyond my wildest dreams ten years ago. On top of this though, by some unlooked for chance, I got to play the role of the poet Sappho in a film. With a screenplay by the novelist and playwright Maureen Duffy and cinematography by Tzeli Hadjidimitriou Sappho Singing is a  retrospective on her life and loves in the beautiful landscapes of Eressos today.  If all goes well, when it has been edited and completed in Athens later this year, the film will be shown at Festivals around the world and, subject to programming in what will be its 20th year, at next year's Eressos International Women's Festival.
Tell me I'm Forgiven: The Story of Forgotten Variety Stars Gwen Farrar and Norah Blaney is available here: 
Eressos International Women's Festival 
Skala Women's Rock Group: